10Gbps SFP+ 1310nm 220M Transceiver DDM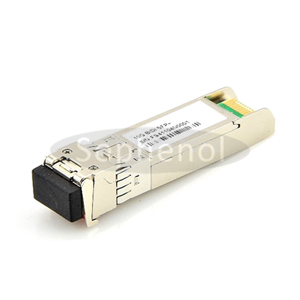 10Gbps SFP+ 1310nm 220M Transceiver With Digital Diagnostic Monitoring
This SFP+ module is for transmission at 1310nm over legacy multimode fiber. Supporting 10GBASE-LRM ethernet standard make it ideally suited for 10G datacom. Its very low power consumption and its excellent EMI performance allow system design with high port density. The small form factor integrates a 1310nm Fabry-Perot (FP) laser in an LC package and a linear multimode PIN receiver. Module is lead free, RoHS compliant and is designed and tested in accordance with industry safety standards.
This transceiver is a linear-interface transceiver that enables, in conjunction with an Electronic Dispersion Compensation (EDC) on the host board, an IEEE802.3aq 10GBASE-LRM compliant link. The host board EDC provides correction for the severe modal dispersion that may occur during propagation through multimode fiber links, including legacy installed FDDI multimode fiber (see IEEE802.3aq for detailed information regarding fiber coverage).

Features:
Supports 9.95 to 10.3Gbps bit rates

Transmission distance up to 220m (OM1 fiber)

Hot Pluggable SFP+ footprint

1310nm FP transmitter, PIN photo-detector

Digital Status monitoring Interface

Duplex LC connector

RoHS compliant and Lead Free

Metal enclosure for lower EMI

Single 3.3V power supply

Power dissipation < 1W

Operating case temperature: 0 to 70℃

Compliant with FC-PI-4 800-Mx-SN-I, SFF-8431 , SFF-8432 and SFF-8472
Applications:
10GBASE-LRM 10G Ethernet

Legacy FDDI multimode links
OEM & Customs
Partnering with a variety of world class OEM manufacturers over 8 years, Fiberstore is able to provide customized and cost-effective solutions of high quality for all needs and specifications, including Optical design, Mechanical design, Printed Circuit Board (PCB) layout and Electrical design, Software & Firmware design, Integrated assembly, Specific labels, etc.