10GBase XFP 1310nm 10KM Ethernet/Fiber Channel LR Transceiver DDM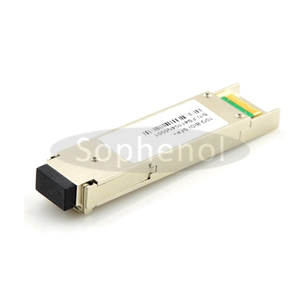 10GBase XFP 1310nm 10KM Ethernet/Fiber Channel LR Transceiver With Digital Diagnostic Monitoring
This XFP module is compliant with the 10G Small Form-Factor Pluggable (XFP) Multi-Source agreement (MSA), supporting data-rate of 10.3125Gbps (10GBASE-LR) or 9.953Gbps 10GBASE-LW), and transmission distance up to 20km on SMF.
The transceiver module comprises a transmitter with 1310nm uncooled EML laser and a receiver with a PIN photodiode. Transmitter and receiver are separate within a wide temperature range of 0°C to +70°C and offers optimum heat dissipation and excellent electromagnetic shielding thus enabling high port densities for 10 GbE systems.
Features:
Supports 9.95Gb/s to 11.1Gb/s bit rates

Hot-pluggable XFP footprint

Maximum link length of 20km with SMF

1310nm Uncooled EML laser and PIN photodiode

XFP MSA package with duplex LC connector

No reference clock required

+5V, +3.3V power supply

Power dissipation <2.5W

Compatible with RoHS

Built-in digital diagnostic functions

Temperature range 0°C to 70°C
Applications:
SDH STM I-64.1 at 9.953Gbps

10GBASE-LR/LW 10G Ethernet

1200-SM-LL-L 10G Fibre Channel

10GE over G.709 at 11.09Gbps

OC192 over FEC at 10.709Gbps

Other optical links, up to 11.1Gbps
OEM & Customs
Partnering with a variety of world class OEM manufacturers over 8 years, Fiberstore is able to provide customized and cost-effective solutions of high quality for all needs and specifications, including Optical design, Mechanical design, Printed Circuit Board (PCB) layout and Electrical design, Software & Firmware design, Integrated assembly, Specific labels, etc.