Multimode to SingleMode 2M/20KM 850nm/1310nm SC 100M E Fiber Media Converter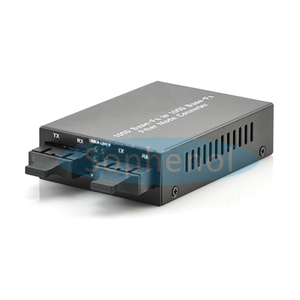 Multimode to SingleMode 2M/20KM 850nm/1310nm SC 100M E Fiber Media Converter
Gigabit Ethernet Multimode to Singlemode Fiber Stand-Alone Media Converters are ideal for campus area networks or other applications requiring the distance advantages of single mode fiber.
Extend a Gigabit Ethernet backbone connection up to 125 km for MAN (metropolitan area network) applications.
Convert 1000BASE-SX ports on a Gigabit Ethernet switch to 1000BASE-LX on a port-by-port basis.
Item Details:
Wavelength: 850nm/1310nm

Color: Black (Grey, Others available)

Connector

Type: SC

Transmission Distance: 2M/20KM




Storage Temperature: -45 ~ 80°C




Operating Temperature: 0 – 60°C



Features:
• Gigabit Ethernet Multimode to Singlemode Fiber Stand-Alone Media Converters
• Fiber Port one: 1000BASE 850nm multimode
• Fiber Port two: 1000BASE 1310nm singlemode