16 Slots Fiber Media Converter Rack Chassis with Dual Power Supply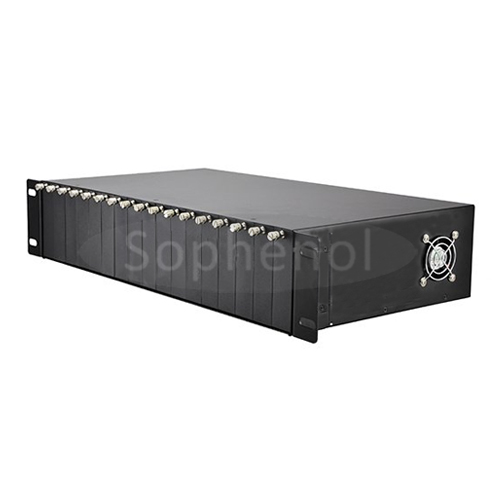 16 Slots Fiber Media Converter Rack Chassis with Dual Power Supply
The Chassis-based Media Converters include a number of independent media converters and a chassis capable of housing up to 14 media converters. You can start with single media converters, each equipped with its own housing and AC power adapter.
When your requirements grow big, you can mount a chassis in your equipment rack and install your media converters in the chassis. The housing of each media converter can be easily removed, and the media converter PC board can be slid into the chassis.
The chassis lets you install multiple media converters in an equipment rack together with the network devices for which they provide media conversion. This provides for space saving, and the cabling will look neat. The chassis comes with its own universal AC to DC power supply. For maximum power availability, an optional redundant power supply is available for installation in chassis.
Features:
For up to 16 Singlemode and Multi-mode card-type fiber media converters;

Supports one fiber port + 1xRJ45 card-type Ethernet media converter;

Equipped with a second, redundant Power Supply for maximum stability and reliability;
Applications:
Number of slot: 16;

Media converters adapted: 16 slots chassis card-type media converters;

Power in: AC 100 V~260 V, 50~60Hz ; or DC 48V;

Power out: DC + 5V , 12A (single power) or 24A (dual power);

Diameter of DC plug: 2.5/5.5mm;

Pipple: ≤50Mv;

Noise: ≤50Mv;

Protection of power supply: circuit-breaker when over voltage; circuit-breaker when over flow; circuit-breaker when short circuit;

Operating Temperature: 0℃~+50℃;

Storage Temperature: -20℃~+85℃;

Relative Humidity: 5%~95%;

Dimensions: L485mm, W231mm, H90mm; 19 inches 2U;

Standard: IEEE802.3 10/100 Base T Ethernet, IEEE802.3U, 100Base V TX/FX Fast Ethernet, IEEE802.3 x Flow control,IEEE802.3.1q VLAN,IEEE802.1p QoS, IEEE802.1d Spanning Tree;

Power configuration: Dual power supply;

Hot Swap Support for the Converters to ensure a flexible connection;