LC Uniboot - LC Uniboot 10G 50/125 Duplex Multimode Fiber Patch Cable​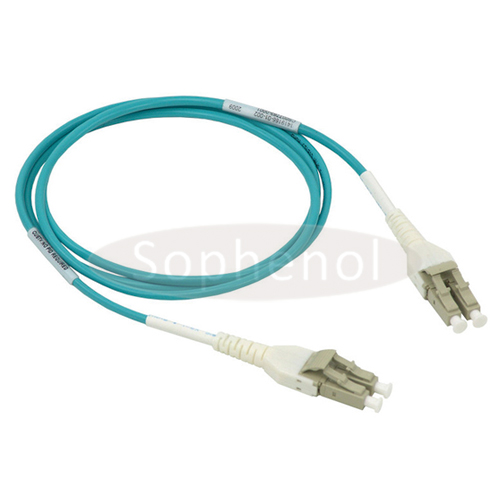 LC Uniboot to LC Uniboot 10G 50/125 Duplex Multimode Fiber Patch Cable
Sophenol's fiber optic patch cables are terminated with standard range physical contact (singlemode & multimode) and angled physical contact (singlemode) zirconia ferrule connectors which helps assure high transmission quality.
The patch cables are widely used for telecom, datacom, data center and even military applications, they provide flexible interconnection to active equipment, passive optical devices and cross-connects. Our patch cables are manufactured conform to IEC, EIA TIA or Telcordia standards.
Item Details:
| | |
| --- | --- |
| Connector: LC Uniboot to LC Uniboot | Jacket OD: 2.0/3.0mm Available |
| Fiber Mode: 50/125μm | Jacket Color: Aqua |
| Fiber Type: Duplex | Jacket Material: PVC/LSZH/OFNP |

Features:
Available in different fiber types including OS1/OS2 (G.652D, G657A1, G.657A2), OM1, OM2, OM3 or OM4

OFNR, OFNP and LSZH jacket available

Available as hybrid patch cords with different connector types including FC, LC SC, ST, etc.

Available in standard and custom lengths

UL, RoHS materials compliant

Applications:
Data centre

Telecommunication networks

CATV

LAN and WAN

FTTX

Broadband netwo

rk

The difference of OM4 and OM3 fiber mode as the following
OM4 was developed specifically for VSCEL laser transmission and allows 10 Gig / second link distances of up to 550 Meters (compared to 300M with OM3).


The effective modal bandwidth for OM4 is more than double that of OM3.



For OM4 patch cable, it is 4700 MHz.km while for OM3, it is 2000 MHz.km

.

How to correctly choose between PVC, LSZH and OFNP?
PVC Cable: PVC cable resistant to oxidation and degradation, is used for horizontal runs between the table.

It is also work for vertical runs if the building features a contained ventilation system running through the duct work.



LSZH Cable: LSZH cable has a special flame-retardant coating, and excellent fire safety characteristics of low smoke, low toxicity and low corrosion.

It is same to PVC cable for horizontal runs between the table.



OFNP Cable: OFNP cable is a space within the building created by building components, designed for the movement of environmental air, complies with the NFPA fire safety.