SC Simplex OM3 50/125um Fiber Optic Pigtail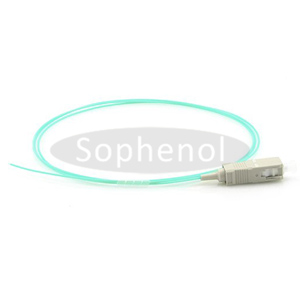 SC Simplex OM3 50/125um Fiber Optic Pigtail, Aqua Jacket 1M
Fiber pigtail cables provide a fast way to make factory terminations in the field. Factory terminated pigtails can easily be fusion or mechanically spliced to an existing fiber line.
Sophenol provide wide degree flexibility on fiber pigtails, including single-mode, multimode and 10G 50/125um OM3 types, simplex fiber, 4 fibers, 6 fibers, 8 fibers, 12 fibers, 24 fibers, 48 fibers and so on. These fiber pigtails can be with fan-out kits and full compliant to Telcordia, EIA/TIA and IEC standards.
Features:
Low insertion loss and back reflection loss.

Good exchangeability.

Good durability.

High temperature stability.

Available in 4 fibers, 6 fibers, 8 fibers, 12 fibers, 24 fibers etc.

Meets ISO9001, ROHS and Bell core GR 326-core standards

Compliant to IEC, TIA/EIA, NTT and JIS specifications

Applications:
CATV, LAN, WAN

Test and measurement

Telecommunication networks

Premise installations

Video and military active device termination

Specifications:
Insertion Loss: ≤0.3 (PC); ≤0.2 (APC); ≤0.2 (UPC)

Return Loss: ≥45 (PC); ≥60 (APC); ≥55 (UPC)

These 10G 50/125 duplex fiber pigtails have an ST or SC, FC, LC connector on one end. They are commonly used for splicing on to outside plant or riser rated fiber optic cables.