MTP APC(F)-MTP APC(F) Trunk Cable Assembly, 12F, Straight, Singlemode 9/125um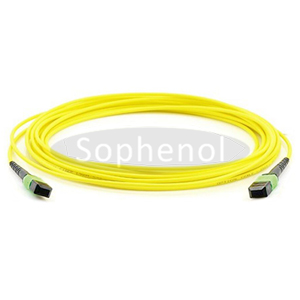 MTP APC(F)-MTP APC(F) Trunk Cable Assembly, 12F, Straight, Singlemode 9/125um, Yellow
This high speed multimode fiber cables are terminated with MTP/PC female fiber optic connectors on both ends (MTP-MTP). The MTP connector is a multi fiber connector developed by USConec that contains up to twelve optical fibers within a single ferrule. Each one of the MTP cables contain 12 fibers or 6 duplex channels in a connector smaller than most duplex connections in use today. MTP fiber cables can work with MPO connectors with no problem.
Specifications:
Connector Types: 12 fibers MTP/APC x 2
Gender: MTP Female to MTP Female
Mode: OS2 Singelmode
Core Size: 9 Micron
Fiber Strands: 12 Fibers
Cable Type: Yellow Riser Jacket
Features:
Various fiber counts are available

Good exchangeability

Plug and Play Ready

Standard: Telcordia GR-1435-CORE compliant
Applications:
Data center

Telecommunication networks

High density cross-connects

Optical switch inter-frame connection

What is the difference between MTP and MPO connectors?
Both MPO & MTP connectors comply with IEC-61754-7 and EIA/TIA-604-5 (FOCIS 5).This means that an MTP connector is, by definition, an MPO connector. They are interchangeable. MTP is a registered trademark of US Conec Ltd.
US Conec designed very tightly tolerance stainless steel guide pins with an elliptical tip which provide the fine alignment required to ensure that the fiber arrays on mating connectors are in the proper position to provide the best insertion loss.