MTP(M)-LC Breakout Cable Assembly, 12F, Breakout, Singelemode 9/125um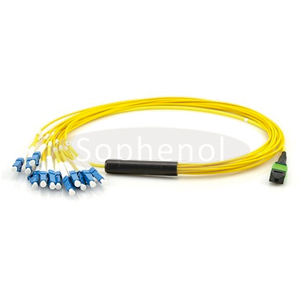 MTP(M)-LC Breakout Cable Assembly, 12F, Breakout, Singelemode 9/125um, Yellow
Sophenol manufactures MTP to SC, ST, FC, LC single mode or multimode fan-out/breakout cable assemblies. There are many configurations for such assemblies as below:
MTP connectors are available with:
4/8/12/24 Fibers Single Mode APC Ferrule

4/8/12/24 Fibers Multimode Ferrule
MTP polishing types are:
Flat PC polishing (for single mode and multimode connectors)

8 degree APC polishing (for single mode connectors with green housing)
MTP connector gender:
Male (with pins)

Female (without pins)
Cable types options:
Bare Ribbon fiber optic cable

Jacketed ribbon cable

3mm mini round loose tube jacketed fiber optic cable

2-144 multi fibers jacketed trunk cable
Jacket types options:
OFNR rated jacket

OFNP (Plenum) rated jacket

LSZH (Low Smoke Zero Halogens)
Break-out cable options individual diameters:
Features:
High density – ruggedized fan out allows for direct connection between backbone and active equipment eliminating rack space usage

Rapid deployment – factory terminated modular system saves installation time and labor cost

Reliability – 100% tested, combination of high quality components and manufacturing quality control guarantees product to the highest standards
Applications:
Data center

Telecommunication networks

Broadband network

LAN, WAN, SAN

What is the difference between MTP and MPO connectors?
Both MPO & MTP connectors comply with IEC-61754-7 and EIA/TIA-604-5 (FOCIS 5).This means that an MTP connector is, by definition, an MPO connector. They are interchangeable. MTP is a registered trademark of US Conec Ltd.
US Conec designed very tightly tolerance stainless steel guide pins with an elliptical tip which provide the fine alignment required to ensure that the fiber arrays on mating connectors are in the proper position to provide the best insertion loss.